The Vermont Department of Liquor Control (DLC) was created in 1933, when the 21st Amendment to the U.S. Constitution repealed the Volstead Act (Prohibition). Control of the sale and distribution of alcohol was then transferred to state governments. In response, all states instituted some form of three-tier system of producers, wholesale distributors, and retailers to promote moderation in consumption, prevent concentration of power, and raise revenues through taxes. Vermont, along with sixteen other states and two counties in Maryland, directly control the sale of liquor at the wholesale level and are considered "control states" or "control jurisdictions".
A number of these jurisdictions also control retail sales which means their citizens purchase liquor at a state liquor store or a designated agency outlet. Vermont owned and operated many of its own stores until 1996, when the State opted to transition completely to an agency system. Agency stores are privately-owned retail locations that contract with the Department of Liquor Control to sell spirits for the State. Vermont currently has 78 agency stores, conveniently located around the state. Our agencies offer consumers a wide range of shopping experiences, from liquor stores within large grocery store chains to local mom and pop stores. Our partnership with these stores allows for a wide variety of products at consistent pricing throughout the state.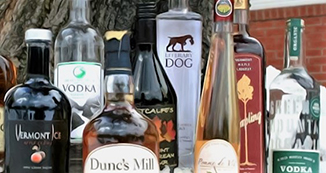 At Bennington Beverage Outlet, along with providing our customers a great variety of wines for purchase, our staff strives to educate them as much as possible about the wines they drink. With that goal in mind, every month we host an in-store wine tasting for our customers. Topics and themes featured may include; grape varietals, specific wineries, individual wine makers, and/or the numerous regions around the world.
A friendly and knowledgeable staff, unbeatable prices, extra reward points on your BBO card and lots of fun are just a few things you can expect at our tastings! So please, join us won't you?
An integral part of our mission is to provide excellent customer service. Our goal is to provide retail customers access to clean, properly stocked outlets conveniently located around the state and to make available those products which meet the demands of residents and visitors to Vermont, at reasonable prices. Our retail objectives are: to stock new products as they are introduced into the market; to constantly monitor levels of customer satisfaction and to anticipate our customers needs; to provide training in product knowledge and customer service for outlet personnel and consumers; and, to stabilize outlet inventory levels, minimizing out-of-stock situations, while providing our customers with a wide variety of products.
To this aim, the DLC adds agency stores as needed, reviews new products throughout the year, and offers an aggressive sales program. DLC also offers a number of features geared to the specific needs of our customers, such as: a nationally recognized "special order" program, a unique bank of product information available through the stores' point of sale systems and at our website, and the ability of agency stores to offer tastings of spirits to the public for educational purposes.
DLC also supports local distillers by distributing their goods to our stores around the state. Recognizing the importance of their business to our state, DLC is proud to carry a fine selection of Vermont-made distilled spirits.
We hope you enjoy your shopping experience with us and PLEASE DRINK RESPONSIBLY